.
.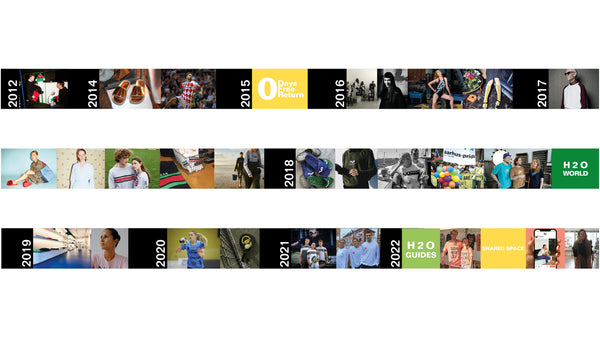 2012:
In 2012, Christian Trads and Mikkel Christensen bought the brand H2O Sportswear
2014:
Introducing STINE GOYA X H2O SPORTSWEAR
H2O Sportswear begins cooperation as clothing partner for KIF Kolding/Copenhagen
2015:
H2O Sportswear stops offering free returns as part of becoming a better brand
2016:
Introducing ANNE SOFIE MADSEN X H2O SPORTSWEAR
Introducing HENRIK VIBSKOV X H2O SPORTSWEAR
Introducing MARK KENLY DOMINO TAN X H2O SPORTSWEAR
2017:
Introducing HAN COPENHAGEN X H2O SPORTSWEAR
Introducing Copenhagen Fur collaboration OH // H2O // Freja Wewer
Introducing FREYA DALSJØ X H2O SPORTSWEAR
Introducing the Gilleleje Series
Introducing the Legacy Collection
Re-Introduction of the Absalon Series
2018:
Introducing the Trek Sandal, which later became a bestseller
Introducing the Blåvand Fleece
Publication and launch of the book 'H2O, the element of water and sailing' in collaboration with Eddie Klint and Philip Messmann.
Collaboration initiated with Aarhus PRIDE
Collaboration begins with SPOT Festival
Introducing H2O World on the website
2019:
Opening of our POP Up store in Oslo
Establishment of H2OFagerholt which in 2023 has become an independent company
2020:
Collaboration begins with Aarhus United
Collaboration begins with KIF Padel Club
2021:
Collaboration begins with Padel Yard Reffen
Collaboration begins with Det Kærlige Måltid
2022:
H2O begins to make guides including material-, care-, summer- and fall guide
Collaboration begins with Fanø Vesterland Festival
H2O Sportswear starts Shared Space, where we make it possible for you to borrow H2O's showroom
Collaboration begins with Tise – the Nordics' largest secondhand shop
H2O begins collaboration with FLOT, where H2O's residual material and claims are upcycled
2023:
FLOT creates a collection of H2O residual production and complaints

Intro of H2O x PIECES 'Mixtape' collection

H2O introduces the Trek Closed Sandal

Intro by MKH2O, a collaboration with MICHELLE KRISTENSEN x H2O

H2O and Small Revolution upcycle Trek Sandals for new exhibition platforms